90 days to create and sell your online training
The first program that teaches you through a powerful strategy how to develop your business, make more turnover and this without increasing your working time.
You know one thing, to grow your business you need to have online training that you can sell over and over again without increasing your face-to-face customer time.
Selling your training online is a powerful lever for:
✅ grow your business
✅ stabilize income
✅ achieve autonomy and financial freedom.
You also say to yourself that:
❌ You are not free of your time selling coaching or services.
❌ The one-to-one is so time-consuming and energy-intensive... In the end, you devote little time to those you love.
❌ You know you have a lot to contribute and that you can positively impact others but you don't know how to go about it.
❌ Your cash flow is irregular and you have more and more doubts about the sustainability of your business.
❌ You wonder if really, one day your activity could bring you numbers without your presence H24.
At a time when many entrepreneurs are launching their own online training, you tell yourself that it's not for you:
❌ The technique scares you or makes your hair stand on end...
❌ You don't even know where to start...
❌ The sale and you, you are not very friends...
❌ You are afraid of losing quality support with your customers.
❌ You are afraid because you can see that the competition is omnipresent.
You have started well to learn about the creation of an online training.
But, you did not find yourself in the values that emerged from the world of infopreneurship:
❌ lack of ethics,
❌ aggressive marketing techniques,
❌ little or no authenticity,
❌ complicated strategies.
❌ you feel lost in the face of the digital tools on offer.
You know deep down that creating and selling your own online training program is the best solution for:
✅ regain control of your time and energy : you want to put on a real business manager's hat by putting all your energy into growing your business and not (or no longer) only that of others.
✅ be able to work without geographical constraints: You dream of broadening your horizons by giving you and your loved ones the opportunity to work from anywhere in the world.
✅ regain self-confidence: You know that you are capable of positively impacting others, you know that you can help other people, but you gradually allow yourself to be overwhelmed by doubt.
✅ make your life plans a reality: Make your professional life serve your personal life, that was your original intention when you started...
That's exactly what you'll get after learning how to create and sell your training online.
These blocks that prevent you from creating your training program
I don't know what to suggest...
When we make the decision to create an online training, we often think (wrongly…) that we have to have the idea that no one has thought of until now… 
Or even sometimes we have so many ideas that we no longer know which one to choose;).
Do you know that, sometimes, it is enough simply to start from what we already do to allow a maximum of people to benefit from our knowledge and our expertise.
The objective of the Forma'preneur program is to provide you with maximum clarity to put in place effective actions with a view to creating a profitable training course that suits you.
I'm not comfortable with the technique
I think it's great that we demystify the technique around the creation of a training... Still wrongly, it often happens that we get a whole mountain of the supposed complexity of the tools necessary to create an online training . Think again, there are now many platforms that are easy to use.
I guide you step by step on these technical aspects so that you focus your energy on the most important, that is to say the content of your training.
I don't know how to sell
Do certain marketing techniques make you uncomfortable? Do you find certain methods far too aggressive and are you not comfortable with the idea of having to use such methods to sell?
Well, you know what? I too am not comfortable with these aggressive and guilt-inducing marketing techniques!
What I teach you in the Forma'preneur program are soft sales techniques thanks to which your prospect will naturally see in you the best solution to meet the difficulty he is encountering.
I am afraid that my learners will not complete my training
When we sell training online, it happens that one of our learners does not complete the training. The reasons can be multiple: loss of motivation, impulsive purchase, a poorly assessed training need, etc.
Selling training and being truly in the position of the trainer means having at heart to see your students go to the end of the training sold so that this training has a real impact.
Selling for selling is not for you!
You are absolutely right and this is precisely one of the elements that we will address in Forma'preneur: How to best support your students towards achieving the objectives of the training.
An important part of the training will be devoted to pedagogical aspects online training. 
You can count on my expertise in the field of training to guide you step by step in building an effective training offer, without you needing to be a training pro.
Today top of competition on the market, you are afraid of not standing out! 
You're right, the market on the web is (a little) saturated. And you add to that a layer of consumer reluctance towards online programs… you tell yourself that you are going to do things differently. Today to get out of the game one thing becomes vital: the quality ! Yes you have to produce quality content and a quality program.
As indicated above, a significant part of the formapreneur program is dedicated to pedagogy / This will allow you to create content that is highly appreciated by your students. And another part is dedicated to customer care so that your customers become your ambassadors. 
Now take a few minutes to imagine if you could finally:
🚀 Be truly impactful by being the source of profound changes in the lives of your clients.
🚀 Be confident about the future of your business by having laid the solid foundations of your training activity and/or by having diversified your sources of income.
🚀 Stop being limited in your creativity. You don't want to be a simple executor anymore! Your energy and optimism can take you to new heights.
🚀 To be recognized at your fair value while providing concrete and effective solutions to your customers.
🚀 Work from anywhere and without time constraints to finally be more attentive to yourself and more available for those you love.
Do you recognize yourself?
Forma'preneur is made for you!
Formapreneur is the training to pass in 90 days from the status
from a "simple" provider of intellectual services to an invested and impactful trainer !
❌ Don't you recognize yourself in the aggressive marketing techniques of some infopreneurs?
✅ You want to propose a structured, qualitative training and oriented towards the success of your students?
Join Formapreneur and take your business to the next level. 
But who am I to offer you this program?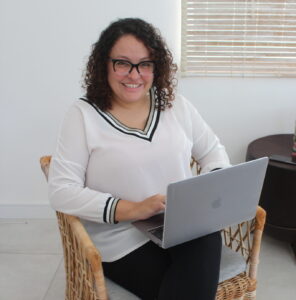 Me, it's Amel Rachelm.
Since 2017, I am business mentor and certified training consultant. 
Before that, we can say that I had a thousand lives: from parenting coach to founder and manager of a press magazine, I now know that life can be tough but that each of us can rekindle the stars and live a life up to one's potential.
I also know that the road can sometimes be long and winding.
But, I also know that sometimes a decision can be at the origin of profound changes. 
To engage with me is to decide to take a shortcut to achieve your life goals more easily.
Entrepreneurship is a great adventure but it is also an experience that can leave a bitter taste... 
Exhaustion, scattering, financial losses, lack of visibility, discouragement...
I have experienced all of this myself. 
By taking the decision to stop the production of my magazine which took all my time, my energy and which turned out to be a money pit, I did not know then that a few years later, I would succeed in fully developing my online business. 
I did not imagine then that a few years later, I could exercise my activity freely while living in Mauritius. 
All this was possible by offering my training program online, without sacrificing my life as a woman, mother and wife.
From now on, my objective is simple: to allow each entrepreneur to move up a gear by creating the offer of excellence that resembles her and of which she feels proud.
The Forma'preneur program, I really designed it as I would have liked to have it in my hands when I launched my online training.
My story, I'm telling it to you simply to tell you that you too can...
Your story can also be told... You deserve it but above all, you too can write but above all live the life of your dreams...
In 2019, I created my own online training.
This allowed me to …
⭐ to support more people towards success,
⭐ to become a professional training quality auditor.
⭐ to no longer be considered an infopreneur (who unfortunately have a bad reputation).
Obviously, I have nothing against infopreneurs, but selling training is not not just providing information but good guide you towards achieving the training objectives, by structuring your offer in an educational way.
On the Formapreneur program:
⚡ Lay the foundations of your training offer: define your customer avatar in depth, refine your positioning
⚡ Create a premium training offer by effectively balancing theory and practice
⚡ Learn to build your online training so that it is both impactful, structured and oriented towards learner satisfaction 
⚡ Manage the technical aspects of setting up online training with ease
⚡ Effectively integrate pedagogy into the course of your training in order to adopt a real trainer posture
⚡ How to simply manage the customer relationship without spending your time constantly answering students' questions while maintaining a high level of satisfaction
⚡ Naturally attract customers to its training offer thanks to the implementation of a minimalist content strategy
⚡ Successful sales calls step by step
⚡ Integrate non-violent communication into your relationship with your students and become a better trainer
⚡ Adopt the right mindset and a spirituality that serves your goals
And many surprises to come! 🤫
Formapreneur is much more than just an online program!
Formapreneur is a step-by-step methodology for learning how to create training with optimized e-learning pedagogy. 
My ambition is to create this program with you, but also and above all to serve your business objectives.
As a professional trainer and quality auditor in this same field, I know how difficult it can be not to know how to mark out the path of these learners:  
🤔 How to individualize student paths and guarantee a follow-up of their progress? 
🤔 Choose a suitable means of communication with your students? 
🤔 How to maintain a high level of motivation throughout the training? 
🤔 How to leave autonomy to your students without them feeling alone during the training?
Here are as many points that will be addressed in an exhaustive manner during the Forma'preneur program to allow you to offer your customers organized and coherent online training around a global and well thought-out pedagogical strategy.
In this course, you will also discover...
all my techniques, knowledge and skills acquired over nearly 20 years in the field of support, then vocational training and entrepreneurship. 
Through the Formapreneur program, I share with you: 
✅ all the strategies that I myself have used to put my business at the service of my life projects,
✅ my best advice to stay focused and act without losing sight of your well-being and that of those you love,
✅ the organization that allows me not to work 10 hours a day while being productive and efficient.
Concretely, how will it be?
Often when you register for an online program, you can find yourself alone and gradually become discouraged…
My goal with Forma'preneur? 
🔥 Let us build this program together and thus make your dreams of autonomy and freedom a reality! 
🔥 May you take advantage of my expertise and kindness to live a life that lives up to your ambitions.
The training is spread over 90 days.
Finally, because I know that we may need 
⚡ come back to certain concepts discussed, 
⚡move independently at the pace that suits us, 
I offer you lifetime access to the program and future enhancements…
At the end of this training, you will have...
✅ Clearly define your customer target and your positioning
✅ Build a premium training offer that you feel proud of
✅ Adopt a true trainer posture
✅ Learned to optimize your time and energy for your life projects
Ready to take action and create your premium offer?
Join formapreneur
✅ Tailor-made training to help you step by step in creating your impactful training offer in just 90 days
✅ Personalized corrections of your work delivered during the training
✅ Lifetime access to the program and its future updates…
Formapreneur is for you if...
✅ You are ready to get out of your comfort zone and challenge yourself to grow your turnover
✅ You are ready to invest your time and energy to develop your business
✅ You feel limited by your intellectual service delivery activity and you want to deploy your full potential.
✅ You want to share your knowledge and expertise by developing your own online training program.
Formapreneur is not for you if…
❌ You are still looking for your way 
❌ You are looking for strategies that would allow you to become rich in 7 days
❌ You are not looking to learn new skills
❌ You are satisfied with your activity and do not seek to make it evolve.
FORMAPRENEUR is the only program that combines strategy AND pedagogy to create and sell your online training.
Eco formula
one-time payment
Personalized corrections of your work

Permanence Live Q/A every 15 days

Access to the formapreneur community
Cautious formula!
payment in 3 installments
€
399
per month for 3 months i.e. 1197€
Personalized corrections of your work

Permanence Live Q/A every 15 days

Access to the formapreneur community
FORMAPRENEUR it's a program that teaches you through a powerful strategy how to develop your business, make more turnover and this without increasing your working time.
🔥 9 Modules
🔥 +60 lessons
🔥 Workbooks
🔥 and bonuses including Notion templates!!!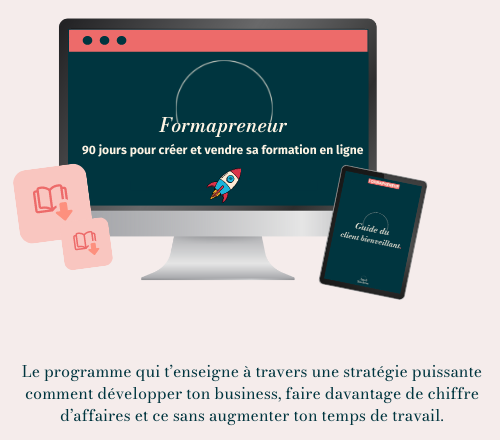 Introduction 
Preparatory Module (mindset shift)
Module 1 : Your positioning
Unit 2: Excellence offer
Unit 3: Andragogy e-learning 
Unit 4: Build your training 
Unit 5: Customer relationship
Unit 6: Content Strategy
Unit 7: Webmarkezting, sell your offer of excellence
Module 8: The basics of NVC for the entrepreneur
BONUS 1: Scale your offer
BONUS 2: Template Notion to manage your business
As a bonus, access to Youtube Pro:
They talk about me and my programs better than me ^^
Sofia, beautician and shopkeeper
"I needed a manual but I got more than that! She made me realize who I am. The highlight is that Amel is by our side. »
Déborah, parent and school coach
"I had everything to learn. Amel will target the actions to be implemented in a personalized way. I learned how to create a premium offer. Amel saves you a lot of time. »
Aurore, psychologist coach and trainer
"I have deep gratitude for Amel because she has shown great professionalism and deep kindness and is an EXPERT. »
Taous, coach
"I learned how to create quality training. Her group coaching is like mentoring because Amel is generous in her advice. Amel is an authentic and natural person. »
Benyounes, professional retraining coach
"Amel is an expert, caring and available. Its values are strong like family. Amel brings positive energy thanks to her friendly dimension. »
Agatha, coach
"I stabilized my turnover. And on a personal level I feel less stressed and I have more time to spend with my family. Amel taught me how to automate my business. »